Dynamica Engineering Co., Ltd. offers a specialized maintenance and machinery services for Pulp and Paper, Petrochemical, Power Stations, Oil, Gas Refining, and Other Heavy Industries throughout the country.
Dynamica offers extensive contracting experience in providing catered service packages, blinds to blinds job and / or turnkey maintenance services during major shutdowns and turnarounds. We provide the safest and most efficient means of solving your maintenance, repair and overhaul problems for stationary equipment.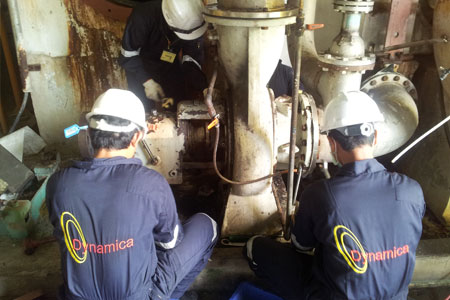 Our Objectives :
Our main objective is to become the
"Leading Specialist Maintenance Service Provider"
To accomplish this objective, our company is continuously motivated to develop the necessary skills for our team members. We are equipped with high-technology tools, facilities, and relevant systems and we are fully committed to achieving "A One-Stop Service Solution" for all your industrial service needs.
Furthermore, Dynamica has developed over many years a number of strategic partners to bring the lastest and best technologies to our customers. We have a responsibility to ensure that our customers are benefitting from the most appropriate tools and technologies avaliable in the market to ensure a job "well-done" ...!!
Dynamica is a customer-focused company delivering high quality and cost-effective solultions. We value our customers and work tirelessly to develop long-term "win-win" relationships built on trust, consistency and reliability. We are committed to bringing the right solution to the problem to ensure total customer satisfaction.